SV Tour De Coop 2015
Saturday, September 19, 2015
Offer your coop! | Help Organize!
Thank you for registering for the SV Tour De Coop 2015!
Already over 110 folks have registered for the coop tour in September but room for many, many more!
But we need your help now! We need coops for the tour and your help to get the word out about the tour.
So please.. help promote back yard chickens in Silicon Valley by
1) Inviting your friends and families to join you on the tour!
2) Any friends with coops, invite them to offer their coop for the tour!
Want to get more involved?  Another organizer meeting is schedule for March 31 in Mountain View CA.  Sign up as an organizer to get more information.
Call for coops and volunteers/organizers  –
If you wish to offer your coop on the tour or help organize, please register for the  Coop tour 2015 Organizers and Coopster eventbright ticket.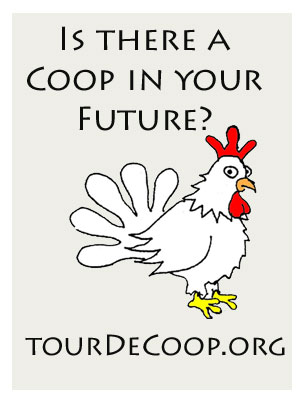 The 2015 Tour De Coop already has businesses, and individuals on board to help promote the tour and expand tours into new cities like San Mateo, even Oakland!!  With the format of our providing individual coop tour routes and maps, the tour can expand to include even more Silicon Valley neighboring cities.
Complete information and registration for organizing and participating are always available on the website at:
Any ideas or questions?  Feel free to contact the SV tour de coop folks at svTourDeCoop@gmail.com.
Keep Clucking!
SV Tour De Coop