Thank you for registering for the SV Tour De Coop 2015!
Here's a quick preview of how the coop tour works and a sneak preview of what will come about a week before the event!
1,483 folks registered for this 2014 Tour De Coop event.  We had 29 coops, over 230 miles of coop loops created from 9 different tours from 5 miles to 100 miles! It was a heck of a COOP day! We hope to have a similar spread of coops and routes from San Jose to Redwood City and beyond for the 2015 Tour De Coop!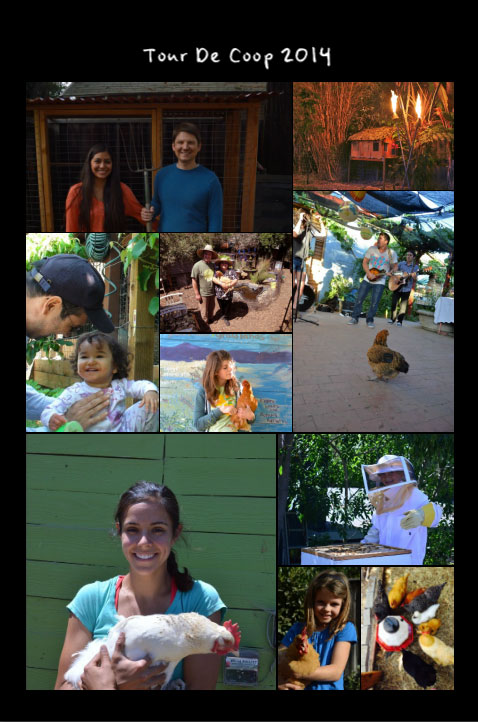 About 3-5 days before the coop tour, we will email you with a special email with links to a set of hidden coop tour web pages for:
Coop List with addresses arranged by city – Each coop stop has it own page
Post Coop Tour social events info
Google Map of Coops
Bicycle Coop Tour Routes with Maps/Cue Sheets
Example Coop Stop Page
We are starting to gather coops and create individual coop pages. We currently have about 14 coops but need several more!  Here is one coop scheduled  for 2015  tour in Los Altos called L'Auberge Inn.
Check out the L-Auberge Inn coop page to get an idea of how you can review the coops on the various tours before the event.
Call for coops and volunteers/organizers
If you wish to offer your coop on the tour or help organize, please register for the  Coop tour 2015 Organizers and Coopster eventbright ticket.
Spread the word about the coop tour to your friends, and especially your friends that have a coop!  I see a coop in your future!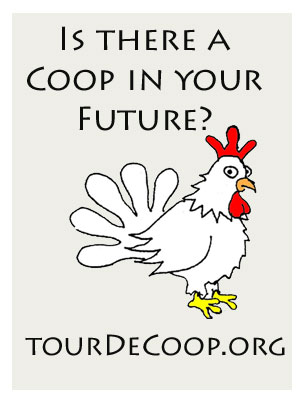 Any ideas or questions?  Feel free to contact the SV tour de coop folks at svTourDeCoop@gmail.com.
Keep Clucking
SV Tour De Coop